Save the Date – Montserrat Carnival 2023 – December 16, 2023, to January 1, 2024
About Montserrat Carnival
Montserrat Arts Council rebranded the annual December festival to Montserrat Carnival in 2019 to differentiate it from the many festivals held on the island year-round.
In 2022, the December festival celebrated its 60th year from December 17 to January 2, 2023.
Carnival vs. Festival
The definition of a carnival is "an annual festival, typically during the week before Lent in Roman Catholic countries, involving processions, music, dancing, and the use of masquerade."
From the first event in 1962, Montserrat's December festival has comprised all the elements that make it a carnival, including calypso music, dancing, pageantry, masquerades, and road processions of revelry and mas.
Montserrat Carnival 2022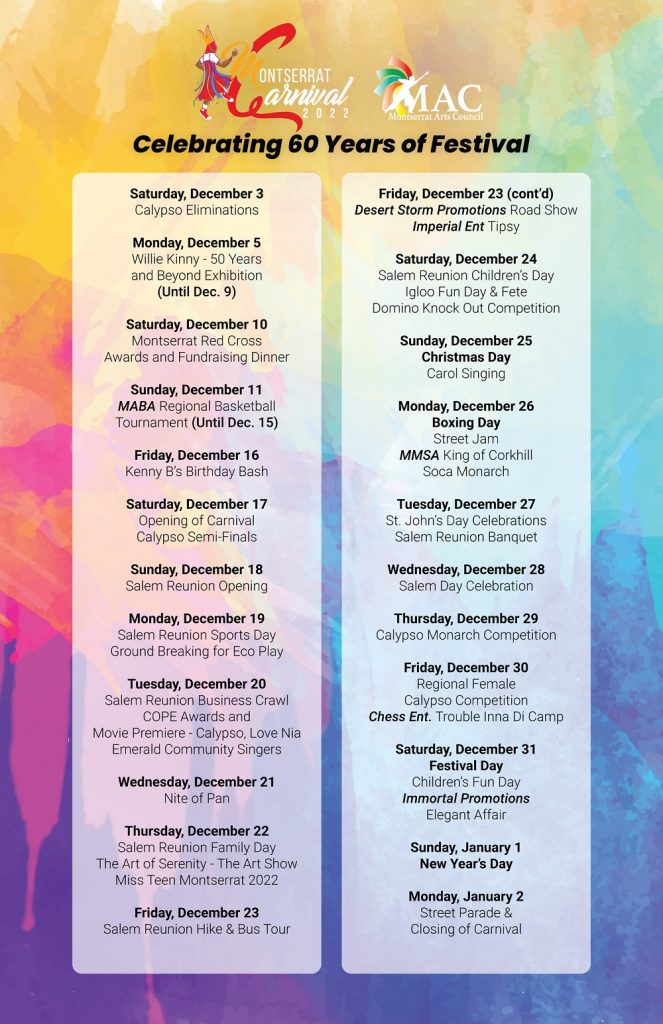 Visit our blog for news stories and other content about our carnival.
Visit our Montserrat Festivals Facebook page for event photos and videos from the 2022 carnival.
Photo Albums on Facebook
Regional Female Calypso Competition
Justin Hero Cassell Calypso Finals